THIS IS AN ACTUAL PHOTOGRAPH!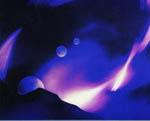 New Email Address is Rons.Place@yahoo.com.
Or click link below to email Dr. Ron!
You are seeing, undoubtedly for the first time,
Ron Pataky's internationally-acclaimed
American photographic art form.
It is called:

When it first burst on to the world art scene
in the early 1980s, some 40 of the best-known
names in the world came forth
with enthusiastic praise for Ron's efforts.
This included FOUR American Presidents!



The master series contains 15 master works
in bold, decisive colors.
What amazed people most,
even the world's most sophisticated aficionados,
is that the works are
ACTUAL PHOTOGRAPHS!!!
| | | | |
| --- | --- | --- | --- |
| | | | |
| | | | |